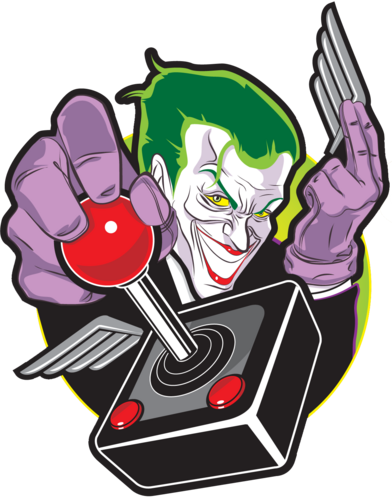 Another important contribution to the Joker Mythos has been the development of games featuring the Clown Prince of Crime.  Since the late 1980's, Joker has terrorized game arcades all over the world both on the video game parlors and homes with the advent of the home game console. One of the first platforms to develop a game with the Joker as an interactive character was Special Effects LTD for the Amiga, Apple II , Atari and Commodore 64 platforms.  Since then, aided by the rapid advent of new technologies that improved the graphics and lower the cost of (and time) of producting games the Joker has evolved into fully 3-dimensional character that in some instances is also playable (like in Arkham Asylum for PS3). Let's take a look at the history of Joker in the Cyberworld of videogames:
BATMAN: THE CAPED CRUSADER

 (1988)
Developed by Special FX Ltd.
Release for Amiga, Amstrad CPC, Apple II, Atari ST, Commodore 64, ZX Spectrum and PC in 1988
Essentially a puzzle game with a lot of action elements
Developed by Sunsoft
Based on Tim Burton's Batman the Movie with elements taken from the comic books
Release for NES, Commodore 64,Gameboy, Arcade, Genesis Platforms, 1989
BATMAN:  REVENGE OF THE JOKER 

(1991)
Developed by Sunsoft and Ringler Studios (Genesis)
Self contained story within Comic book universe
Release for NES platform (1991-92)
Release for Gameboy platform (1992, different version)
Release for Sega Mega Drive (??1992)
BATMAN:  THE ANIMATED SERIES

 (1993)

Developed by  Konami
FIRST  video game based on BTAS and released only for Game Boy
Release for Game Boy platform, 1993
THE ADVENTURES OF BATMAN AND ROBIN

 (1994-95)

Developed by Konami
Based on Batman The Animated Series (BTAS)
Release for Super NES platform,  1994
Release for Sega Genesis  and Sega CD platforms, 1995
BATMAN BEYOND: RETURN OF THE JOKER

 (2000-2001)

Developed by Ubisoft
Release for Nintendo 64, Game Boy Color platforms, Nov/Dec 2000
Release for PS3 Platform , January 2001
 BATMAN CHAOS IN GOTHAM

(2001)

Developed by Digital Eclipse Software, published by Ubisoft
Based on The  New Batman Adventures
Goal:  The most dangerous villains of the city have broken out of Arkham Asylum and are again wreaking their individual brands of havoc. Following the resulting chaos, a mass crime wave ensues. With the police helpless, it is now up to Batman to foil their sinister deeds, and one by one make them return to the asylum.
Release date for Game Boy Color February 2001
 

BATMAN: VENGEANCE

(2001)

Developed by Ubisoft Montreal and Shanghai
Release for PS2, Game Boy Advance, Nintendo Game Cube, Xbox, Microsoft Windows in October 2001
Joker voiced by

Mark Hamill

Goal:  Crime escalates in Gotham City as Batman finds himself the target of a conspiracy.  After the Joker plummets to his death in an attempt to kill Batman, Gotham criminals quickly highten their schemes to gain power. Batman discovers subtle links to these seemingly unrelated crimes, but is forced undercover after being framed for an attack on Commissioner Gordon.  Hunted by the police, the Dark Knight must discover who is behind the mysteries before Gotham City is Destroyed.Presented in a more stylized, golden age comic book appearance that communicates attitude and personality through Spartan artwork, Batman engages in a variety of different gameplay modes (traditional third person and vehicle-based gameplay) in his pursuit to rid Gotham City of its most notorious criminals.
JUSTICE LEAGUE:  INJUSTICE FOR ALL

(2002)
Developed by Saffire
Release for Gameboy Advance, November/December 2002
Lex Luthor, Star Saphire,

Joker

, Solomon Grundy, Cheetah, the Shade, Felix Faust and the Ultra-Humanite unite as the Unjustice Gang in order to defeat the  JLA
BATMAN: DARK TOMORROW

 (2003)

Developed by Kemco (Kotobuki Systems)
Release for Gameboy and Xbox Platforms in March 2003
Written by Scott Peterson (Batman) and Kenji Terada (Final Fantasy)
Plot:  Batman on a mission to rescue Commissioner James Gordon from the imfamous Rogues gallery ranging from Joker, Black Mask, Poison Ivy, Scarface and the Ventriloquist, Mr. Freeze, Mr. Zsasz, Ratcatcher, Killer Croc, Ra's Al Ghul, Talia and Ubu
Joker voiced by

Allen Enlow
LEGO BATMAN: THE VIDEO GAME 

(2008)

Developed by Traveller's Tales/TT Fusion (Nintendo DS/ Robosoft Technologies (Mac, OsX)
The game features Batman and Robin fighting crime and villainy in Gotham City. Batman's most dangerous and murderous foes have all escaped from Arkham Asylumand divided themselves into three groups of five, each led by a "clever" and well-known villain with plans to achieve a personal goal:

Riddler

is after the city savings in the Gotham Gold Reserves.

Penguin

plans to seize control of Gotham using remote-controlled penguin robots.

Joker

intends to blow up the cathedral and spread his deadly laughing gas across Gotham.  Voice effects provided by

Steven Blum

Each group is accompanied by hundreds of thugs and small timers who murder and steal under their orders. Each group member also has a specific set of goons that are tailored to their crimes.

Release Date for  MS Windows, Nintendo DS, PS2, PS3, PSP, Wii, Xbox 360, Mac OsX , Mobile phones in September/ October 2008
MORTAL KOMBAT VS. THE DC UNIVERSE 

(2008)
Developed by Midway Amusement Games/Warner Bros. Interactive Entertainment
Based on the series of Mortal Combat
Written by Jimmy Palmiotti and Justin Gray
Release for PS3, Xbox 360 Platforms November 2008
Plot: The story of MK vs. DC takes place after Raiden, Earthrealm's god of Thunder, and Superman, hero of Earth repel invasions from both their worlds. An attack by both Raiden and Superman simultaneously in their separate universes causes the merging of the Mortal Kombat and DC villains, Shao Kahn and Darkseid, resulting in the creation of Dark Kahn whose mere existence causes the merging of the universes that if continued would result in the destruction of both universes. Characters from both universes begin to have a flux in power, some becoming more powerful and others becoming weaker.
Joker voiced by

Richard Epcar

Trivia:  A Joker fatality where Joker pulled a gun to an enemy's head and fires first a flag and then a real bullet was taken out of the game version in the US to keep the TEEN (T) Rating of the game (but you can see it in the link below)

Click window to Watch Chapter 6: The Joker game cutscene
Click window to watch the US deleted Joker fatality
BATMAN ARKHAM ASYLUM 

(2009)

Developed by Rocksteady Studios
Writer Paul Dini
Release for PS3, Xbox 360 Platforms August 2009
Release for Microsoft Windows Platform September 2009
Joker voiced by

Mark Hamill

Plot: The Joker attacks Gotham City's Mayor's office but is foiled by Batman, who escorts him to Arkham Asylum. Due to a recent fire at Gotham City's Blackgate Prison, many members of the Joker's gang have been temporarily relocated to Arkham. As Batman accompanies the guards taking the Joker inside, the asylum's security is overridden by Harley Quinn, allowing the Joker to escape and take control of the facility. Batman quickly realizes that these events have been part of the Joker's plan and that the Joker had bribed a security guard to help him escape. The Joker threatens to detonate bombs scattered around Gotham City should anyone attempt to enter Arkham, forcing Batman to work alone; however, Batman is able to rely on Commissioner Gordon and other loyal guards after Batman is able to free them. Additionally, Oracle is able to guide him through the asylum over the radio. Batman is able to gain access to an adjunct of the Batcave on the island. Batman eventually learns that the Joker is seeking a chemical called Titan that is being produced at the asylum. The compound is based on the Venom drug that gives Bane his super strength, though the Titan formula is much more potent. The Joker plans to use the Titan formula on the various Blackgate inmates to create an unstoppable army, as well as on Poison Ivy's plants, which mutate and take over the island. He also plans to dump the Titan-production waste product into Gotham's water supply.He embarks on a dangerous quest to stop the Joker, exploring numerous parts of the island, encountering villains like Scarecrow, Victor Zsasz, and Bane. He eventually encounters Poison Ivy, and she relunctantly gives him information on how to get the ingredients for an antidote to Titan; said ingredients are stored deep in the lair of Killer Croc. Batman ventures there, has several run-ins with Croc, finds the ingredients, and then returns to the Batcave where creates the antidote, but only has enough time to synthesize one dose before Poison Ivy's Titan-infused plants destroy the Batcave's computer.
After destroying the mutated plant life and defeating Ivy, the Joker invites Batman to his "party", where Batman sees the Joker holding Scarface, sitting on a throne of mannequins. The Joker then reveals that he has recaptured Gordon and attempts to shoot Gordon with a Titan-filled dart. Batman jumps in front of it, taking the injection himself. Batman attempts to resist the change, after which an upset Joker shoots himself with the Titan gun, becoming a massive monster. In his new form, the Joker proudly displays himself to news helicopters. He tries to persuade Batman to stop resisting the Titan formula and change into a monster, saying it is the only way to defeat him. Batman refuses, and uses the antidote on himself. The Joker, amazed at his decision, attacks Batman directly. Batman defeats him by covering his glove in explosive gel and punching Joker fiercely in the jaw. The Joker reverts back to his original state and is taken back to his cell, and armed Gotham police officers slowly regain control of the asylum.
DCU ONLINE (2011)

Developed by Sony Online Entertainment
First DC Massive Multiplayer Online Role Playing Game
Release Date for PS3 and Microsoft Windows Platforms January 2011
Joker voiced by

Mark Hamill

Plot: DC Universe Online is set in the present day, but the opening cinematic sequence takes place in a gritty, war-torn future depicting a final battle between the world's greatest heroes and villains.
This battle takes place in the ruins of Metropolis, and features the deaths of several well-known DC Comics characters. The battle culminates with the death of Superman at the hands of Lex Luthor, leaving him, Batman (although we don't know it then) and the Joker as the survivors. Luthor stands back to proclaim his victory, only to see Brainiac's war fleet fill the skies.
The scene then shifts to the present-day Watchtower, where the future Luthor is telling the story to the present-day Superman, Batman, and Wonder Woman. Luthor explains that the deadly final war between the heroes and villains was triggered by the subtle manipulations of Brainiac, who had been slowly downloading their powers over time. With the planet's most powerful beings dead, Brainiac intended to use the pirated data to create an army of metahumans under his control, facilitating his conquest of Earth. As the only survivor of the war, Luthor could do nothing to resist Brainiac's subjugation of the planet.
Luthor explains that he was able to survive in secret and eventually steal the stolen data and energy from Brainiac's mothership in the form of "exobytes", nanobot-sized devices that can bond to a living host and give them their own superpowers. After finally designing a time machine or hijacking one from Brainiac's technology, Lex Luthor has traveled into his past to release the exobytes into the atmosphere of present-day Earth. The heroes are outraged, but Luthor explains that because he has done this, soon thousands of new metahumans will be created from ordinary humans (becoming the characters that players design and play with). He implores the Justice League to find and train these new metahumans, because Brainiac is coming and the Earth must be ready to succeed where it was once doomed to fail.
In the second trailer to the game, "In Lex we Trust," we find that Lex's description of events leading up to his arrival in the present time is not as he described to the heroes. The trailer begins with Lex reviving his companion, Fracture, from being unconscious. Lex explains that Brainiac's forces have already penetrated the Fortress of Solitude and that their time is running out. As they approach a time portal chamber, a Braniac Eradicator attacks Fracture who, using a small grenade, destroys the robotic drone. The two arrive at the portal which is being stabilized by Batman, whose face is disfigured and arm is replaced by a robotic prosthetic due to injuries from the battle of villains and heroes. As more Eradicators enter the chamber, Luthor lies saying his armor is damaged and that he can not hold them off. Batman tells Fracture to take the exobytes and go through the portal, attacking the Eradicators and buying him more time. Fracture thanks Lex for using the exobytes to give him his powers and Lex, seeing the opportunity he had been waiting for, kills Fracture describing him as "an excellent lab rat." As Luthor is about to step into the portal, Batman calls to Luthor warning that "I'll be coming for you", to which Lex responds "No, you won't", and activates a self-destruct sequence. The villain enters into the portal and the Fortress of Solitude suffers massive explosions. He arrives in a dark alley, presumably present day. He is greeted by his present-day self who describes him as being late.
BATMAN ARKHAM CITY ( Fall, 2011)
Developed by Rocksteady
Release date for PS3, Xbox Platforms October 18, 2011
Joker voiced by

Mark Hamill

Watch Joker's Litte Problem Here!
Watch Joker's death Here!
Listen to Joker's last message Here!