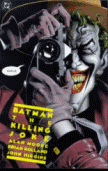 You can get to see the KILLING JOKE on the big screen before it hits the stores
FATHOM EVENTS, along DC COMICS  have organized a one night event where they will show the KILLING JOKE animated film in  theaters world wide.
The special event is to occur on JULY 25 and many theaters offer two showing times.  You can visit Fathom Events site HERE to see a list of the theaters who are going to show the movie and purchase your tickets ($13.31 + service fee).
I already have purchased mine and can't wait to hear Mark Hamill and Kevin Conroy through the speaker system and watch the movie in digital…Hurry fast to get yours before they are gone…